ADDRESS:
1125 Bechtle Ave., Springfield, OH 45504
HOURS:
Mon-Fri 9am-6pm
|
Sat 9am-3pm
PHONE:
937-322-8117
Shipping – it's about choice!
Our friendly, professional shipping experts will check the shipping rates of all carriers to find you the best value service for your shipment. Shipping international? We will assist you every step of the way!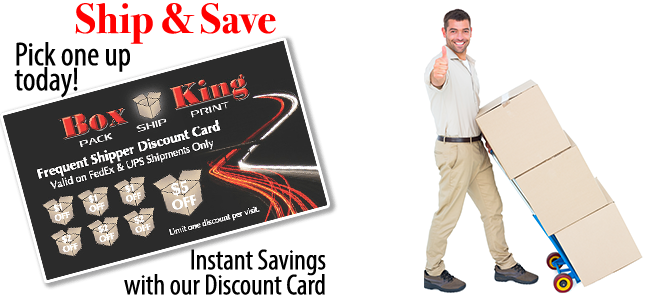 CARRIER LINKS
SERVICES
PICK-UP TIMES

• Ground
M-F 4:30PM

• First Overnight
• Priority Overnight
• Standard Overnight
• 2 Day
• Express Saver
M-F 4:30PM

• Next Day Air Early AM
• Next Day Air
• Next Day Air Saver
• 2nd Day Air AM
• 2nd Day Air
• 3 Day Select
• Ground
M-F 4:30PM

• Express Mail
• Priority Mail
• Parcel Post
• First Class Mail
M-F 3:00PM
Box King will get your package to its destination, on time and on budget!

We Have Boxes for Every Need

We carry over 60 different box sizes, in stock, everyday!
We also create custom boxes while you wait!

Other Packing & Shipping Supplies include:
•Bubblewrap •Foamwrap •Packing Peanuts
•Clear Tape •Paper Tape •Bubble Mailers
•Tyvek Envelopes •Mailing Tubes •Courier Envelopes
•Address Labels •Fragile Labels •Tape Guns

Custom Packaging

We take expert care of your large, fragile, awkward and valuable shipment!
We have everything to professionally pack your shipment and all of our packing methods
meet or exceed carrier requirements.

Save time, and have the peace
of mind that your shipment will
arrive exactly how you sent it.
We Guarantee It!
WE MAKE FREIGHT AFFORDABLE!
"Less than truckload" Freight
We offer very cost-effective shipping alternatives for large items, or many small packages going to a single destination.

Because we do both small parcel and freight shipments under the same roof, Box King has the ability to provide you with multiple choices to meet your budget and timeframe.

We utilize multiple freight trucking companies to get competitive bids for your shipping dollar.

If your shipment is too large for you to transport, call us. We will do an on-site quotation at no cost or obligation.
Packaging for Freight
Box King has the tools and skills needed to insure your freight shipment is packaged properly to arrive just how you shipped it. Methods include:

• Custom Boxing
• Crating
• Palletizing
• Banding / Stretch Wrapping

For freight shipments too large for customers to bring in, we are happy to offer pick-up at your location. We can also arrange for a blanket wrap freight shipment, the safest method of transportation for your extremely delicate or valuable item.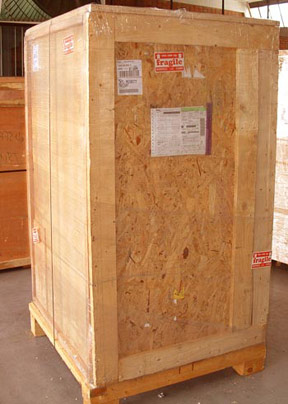 ADDRESS:
1125 Bechtle Ave., Springfield, OH 45504
HOURS:
Mon-Fri 9am-6pm
|
Sat 9am-3pm
PHONE:
937-322-8117